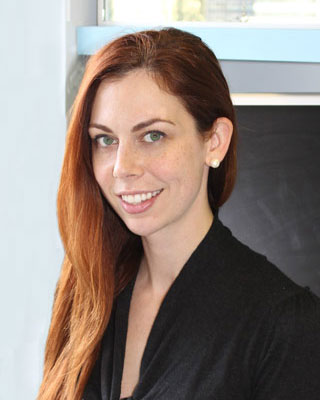 Dr. Sarah Balaster received her Doctor of Dental Medicine from Rutgers School of Dental Medicine and earned her certificate in Periodontics from the New York University College of Dentistry. Prior to enrolling in dental school, she attained a Bachelor's of Arts with honors in Fine Arts from Wesleyan University and a Bachelor's of Science in Biology from William Patterson University.
Dr. Balaster's background in both the visual arts and sciences allows her to work with patients to achieve both an esthetic and healthy smile.Dr. Balaster prefers to treat patients with minimally invasive surgical therapies when possible and is trained in the LANAP protocol; which offers a less painful, treatment alternative to conventional periodontal surgery through the use of the PerioLase MVP-7 Nd:YAG laser.
The LANAP treatment can target the source of the inflammation without hurting or removing any healthy gum tissue to slow or stop attachment loss, decrease pocket depth, and allow the body to recover from the chronic infection without the need for scalpel or sutures.
The LANAP protocol is the only laser treatment protocol currently cleared by the FDA for true regeneration and is backed by both clinical, scientific, and human histologic evidence.
Dr. Balaster has worked on the development of soft tissue (gum) grafting techniques to improve esthetics, function, and patient comfort. Her surgical techniques are evidence based in biology and are tailored to each patients needs and unique situation.
She believes both periodontal and surgical treatment are not one-size-fits-all and that each patient should be thoroughly evaluated and diagnosed prior to selecting both treatment and surgical technique.
She is a member of the American Academy of Periodontics, Northeast Society of Periodontics, American Dental Association and the American Laser Society.
Book Online Now
Complete the form below to book your appointment today.
Office Hours
Monday

9:00 AM – 5:00 PM

Tuesday

9:00 AM – 5:00 PM

Wednesday

9:00 AM – 5:00 PM

Thursday

9:00 AM – 5:00 PM

Friday

8:00 AM – 4:00 PM

2nd and 4th Saturday of the month*

8:00 AM – 4:00 PM
CareCredit
CareCredit is a healthcare credit card designed for your health and wellness needs. Pay for the costs of many treatments and procedures through convenient monthly payments.
Our patients leave smiling


We always have a great experience at The Dentists Office of the Hudson Valley. They are wonderful with adults and my children and have been very accommodating in emergency situations. Katie, our hygienist, is gentle and thorough. We have tried many local dentists and this office is by far the best. We will never go anywhere else!

Lesley K.



The office staff are friendly and very helpful. My hygienist, Brittany, is just awesome! She has so much knowledge and is kind and funny, too. Dr. Shah is great. I have nothing but praise for this office!

Sue K.



I don't think anyone wakes up and thinks , I can't wait to go to the dentist , I know I don't. But when you enter the Dentists Office of Hudson Valley and are greeted so cordially and Professionally by Athena you feel it's going to be OK. I can't say enough for the care given me by the Dental Assistant Alexa and Doctor Joe Yoo who both explained the procedure they wer…

Joe P.



My family has been coming here for years, and have always had an outstanding experience! My children actually look forward to coming, thanks to Dr. Brian's great way with kids! The other doctors, assistants, hygenists, and office staff are great too! Another huge bonus is that we never have much of a wait time, which we all really appreciate. Give this practice a try, you will not be disappo…

Heather L.



I've been coming here for years and all of the staff is super friendly. I feel comfortable and confident coming here and would recommend it to everyone, not to mention the super CLEAN and professional environment.

Remingt0nn X.



Absolutely the best dental office around, staff is

Greg K.



Absolutely the best dental office around, staff is friendly, dentists are personable and gentle.

Greg K.



I would like to start out the New Year of 2018 with a big Thank You to the staff of the Dentist Office of the Hudson Valley. Mary Darwak was most helpful in seeing that I was seen in a timely fashion. Dr Eric Waldman was thorough and treated me with great respect . My crown was successfully restored . Thank you again.

Anne G.



Melissa in reception is caring, kind, patient and awesome to work with. She is always courteous and able to help with whatever we need. We love Dr. Hinkle for his caring and amazing ability to help my younger daughter and Dr. Deans for her awesome orthodontist skills with my older daughter. THIS OFFICE IS THE BEST! Highly recommend them over anyone else in the Hudson Valley.

Stephanie P.



Was awesome from first call. Immediate appointment that day for a new patient. 2 days later scheduled for extraction. Dr Oh and Dr Yu were both fantastic. Lori was awesome during my procedure and the lovely ladies in appointment scheduling couldn't have been nicer or have more patience with my busy schedule.

Melissa L.



Dr. Shah is the best dentist, great experience this morning! She has the best assistant, Kim as well!

Shannon S.



This morning when I woke up, I was greeted by a very excited dog, who proceeded to jump up and hit my teeth with hers, causing a very broken front tooth. Needless to say, I was pretty upset. I called my usual dentist, but they are closed on Saturdays, so I tried my roommate's dentist, and by some miracle, an office that is normally closed on the weekends, was open and willing to see me. These am…

Elizabeth J.



I had a tooth emergency today, and I can't get over how wonderful the people at this office were. I am not a regular patient with them, but they had me come in to assess the damage and fixed what had been a pretty badly broken tooth. Dr. Stein was an absolute gentleman and, along with his assistant, gave me one of the best experiences at a dentist I've ever had. Thank you so much for helping m…

Elizz J.



Wonderful office where everyone knows your name. Excellent service and makes going to dentist easy not with no fear.

Christopher D.



Great office!

Hunter L.



Everyone was so warm and welcoming! They made a great 1st impression!! I really appreciate how there was nearly no wait time and I arrived early! I was so nervous as it was my 1st appointment there and they made me feel comfortable. Linda was so friendly and talked me through everything they were doing. They were wonderful.

Heather E.



Excellent care, courteous staff especially Debby and Dr. Conti. Highly recommend to friends and family.

Srmnotsure



Great office . Everyone is so nice and knowledgeable.

DEBORAH O.



Very clean office and very pleasant staff. Dr. Yoo is my favorite and flawlessly helps me cope with my dental anxiety.

Dan P.



I have been going to this particular office for about a year now, and I find the staff to be friendly, courteous, and very professional. You are always welcomed with a smile and friendly "Hello". They take the time to get to know you and answer any questions that you may have regarding any situation; and they always try to accommodate you and your schedule. I would recommend this Denti…

Tammy G.



I always have a great experience going to The Dentist office. Staff is always friendly and flexible with getting me an appointment. I no longer fear going into the chair any longer! Highly recommended!

Kyle T.



The staff at this office are the best. They are always ready to make me feel comfortable especially with my fear of going to the dentist in the past. I can truly say that my fear has been cured. Also very flexible with scheduling my appts. Love going to the dentist ♥️

Tanya T.



My daughter lost her first tooth and went to show Dr. Brian. She was so excited and the girls at the front desk were awesome. They brought us back so my daughter could get a big high five from Dr. Brian and a prize from the prize box.

Tracy F.



Absolutely amazing! My 3 year old had his first appointment today, and has not stopped talking about it yet! Thankyou Dr. Bryan for making this such a comfortable and fun appointment! We look forward to bringing our daughter next!!

Alyssa V.



All I can say is that they have the best ped dentist for children with special needs staff is also well train in the field also….

Marlene S.



Thank you Dr. Shah for making my invisalign braces work properly

Kenneth K.



Dr. Yoo, Megan, Justine and staff made me feel extremely comfortable during my dental trtm today. I was extremely nervous filled w anxiety and the work I needed done didn't hurt at all. U guys all did I great job!! Thank you all so much!!

Linda R.



Dr. Shah and her assistant Kim are the best. I have severe anxiety going to the dentist and they make it as easy as possible for me! Highly recommend.

Kristine J.



Some people just do a job but these folks truley care the staff there is unlike any ive seen and as for dr OH your kindness and gentle hand i need to say no more just saying………..

Tom W.



Very fast and friendly. Great consultation and excellent reception

Tabitha O.



I totally love the Dentist's Office… needed to get in asap and Melissa hooked me up with appointment today 10/09/17.. and Dr. Shaw checked me out and give me the answers I needed… they are the best! Always friendly and getting me in when I need to be seen!

Anita F.



Dr. Brian is amazing! My child left smiling and can not wait to see him again. So impressed with this office.

Concetta C.



I had a very positive experience at the Dentists' Office of the Hudson Valley. The desk staff worked very hard to get appointments for our whole family that were quick & convenient. The office is clean & child-friendly. I am glad we found a dentist's office that can treat the whole family.

Suzanne M.



The only place I will ever go for dental work

Nicole B.



The staff and dentist at the Dentist Office of the Hudson Valley are top notch. Always have a great experience here.

Ryan T.



They are very kind & professional! Will continue to use them!

Michelle J.



Shana was great

Verna M.



All around great experience. Little wait time, professional, clean, comfortable office.

Jennifer K.



I had an appointment to fix a broken crown The office,staff for me in right away. I didn't have to wait,at all to get in! Both the dental,assistant and dentist,were helpful and professional. I left,with my crown back in place!

Sue K.



Friendly and extremely helpful staff.

Crista M.



The office itself is beautiful,. They were able to take me in the same day when I called. The doctors and staff were awesome. Told me what I had to have done. Gave me lots of options and were very upfront

Neil B.



All of the staff were professional, courteous and caring.

Thomas W.



I've had quite a few crowns, caps over the years…but the experience here with a crown was easy, painless, gentle, professional. Dr. Shah & her Dental Assistant Kim are the best. We retired from living in NYC to Hudson Valley and came upon this place by chance. We highly recommend this Dentist Office. And if you have an emergency visit of any kind. they always squeeze you in

Susanne S.



Dr. Brian is the best pediatric dentist hands down. The staff are always friendly.

Anonymous



Top notch dental office! Everyone is very professional and treats you like a friend, not a number. Painless dentistry with a smile!

Joan K.



I'm very happy with the care and Dr. Shaw hope next 4 visits go well.

Joseph R.



Wonderful place… I highly recommend :)

Laurie S.



My hygienist was gentle, did her job well and was very professional. I highly recommend The Dentist Office to all, especially the sceptical looking for an excellent dentist.

Joan K.



Cleaning was pleasant and painless plus staff was friendly and efficient. it was my first time and the on-boarding process was quick and painless, I opted to pre-fill my details online and they were actually there waiting for me (that never happens).

Antonio E.



She is very careful about making sure you have no pain.

Kevin H.



Staff is awesome and friendly. Was as pleasant as going to the dentist can be!

Tracy F.



Everytime I have an appointment, I am well pleased. My last appointment was with the heiginists. She was great!! My dentist is so friendly and thorough.

Roberta W.



Everyone was polite and professional.

Anonymous



Excellent care. Compassionate. Explained everything being done in an easy to understand way.

Victoria S.



Our 4 & 6 year olds had a wonderful experience with Dr. Brian… what a wonderful personality and very professional doctor! Our girls look forward to their next appointment and have been excited to brush and floss every day since! Lori was his dental assistant and she was wonderful also.

Sheri M.



Dr. Brian is such a good pediatric dentist he makes the visit enjoyable for kids.

Carla K.



Appointment was on time, cleanings for my son and I were easy and fast, they never try and push unnecessary work on us here. Have been coming to this practice since the late 90's

Kenneth T.



Dr. Chung is great!

Cari M.



As always very professional and the entire staff makes you feel very comfortable. It was another pain free experience.

Alan M.



As usual this office hit a home run. Quick, clean, and very professional

Freddy H.



My visit was Great… Dr. Chow was awesome

Leon T.



I was worried on how my daughter will handle the dentist. She always cried when I took her . Today we tried this office. No tears.. She left with a smile on her face. I was very impressed on how hands on they are.. they definitely got my vote..

Santina N.



After having cracked a tooth, I stopped by The Dentists' Office. Such kind, courteous and professional personel. They took me immediately and the next day my temporary crowns were put in. Dr. Shah and Kim were simply great! No anxiety or pain. So glad I found them!

Debra P.



Wonderful place! Dr Yoo is absolutely amazing at what he does, and every single assistant has made me feel so comfortable! I love this place!! 10 stars!!!!!

Danielle B.



LOVED THE SERVICE. I WALKED IN AND WAS ATTENDED BY A WOMAN NAMED ATHENA, WHO GUIDED ME THROUGH THE PROCESS, PRIOR TO SEEING THE DENTIST. SHE WAS VERY INFORMATIVE AND KIND.THE FACILITY IS VERY CLEAN AND IMPRESSIVE.

Edna F.



Amazing care! For the first time in my life I actually like going to the dentist

Tiffany D.



My experience at the Dentist Office was amazing. I went there in extreme pain from a tooth. They were able to take care of the tooth that day. Dr. Waldman was the dentist who did the extraction. I never felt any pain and the procedure did not take long. I was very happy with my experience and would definitely recommend them to everyone.

Jennifer C.



Dr. Shah and Kim were wonderful!

Danny N.



My appointments with Dr. Oshman are always pleasant.

Lorelle U.



Absolutely refer this place for the kiddies, dr hinkle was beyond amazing with my daughter whom had trauma to her front teeth and I went to him for a second opinion, but he was to great that will definitely be switching her dentist to the dentist office. Thanks!

Jessica O.



Very great staff. Knowlegable and personable.

Gina L.



Dr. Bryan made me feel relaxed, I wasn't scared. It was the first time I had novocaine and afterward, I said:"It wasn't bad at all." I had an abscess where an adult tooth was trying to come through, so added on to my visit, I had that tooth pulled. Dr. Bryan had the tooth out before I even knew it.

Anonymous



Dr. Freidman was wonderful. He did what had to be done. He actually called me to see how I was doing. Very devoted. I would recommend him 1000%.

Jeanmarie S.



First appt there and it was a great visit.

Anonymous



I was extremely pleased with my care and treatment at the office.

Anonymous



The best dentist!!! Thank you

Anonymous



My son saw Dr. Bryan Hinkle for a filling and what turned out to be an abscess due to his adult tooth coming in. Dr. Bryan was awesome in explaining everything to my son during the entire procedure. He explained the need to pull the baby tooth and for novocaine. It was the first time my son had novocaine and afterward, he said: "this was no big deal mom." Dr. Bryan certainly knows how…

Kudakwashe M.



Friendly fast and most of all painless service. I am recommending this office to a friend of mine because of how nice they are.

Anonymous



I love going to the dentist now. And to see how happy my daughters are when they come to your office makes me even happier. The dentist's are amazing and so is ALL the assistance and staff.

Lisa S.



I wake up and go to bed every day with a smile on my face because of this place. I absolutely love them,would recommend this place to anybody… Thank you ladies for helping build my confidence back up, your the best…

Stephen W.



I had a great experience at the Dentist Office Of the Hudson Valley. It's a very clean and modern facility with friendly staff. My hygienist Katie was very friendly and professional and I had a great cleaning! I would highly recommend this office.

Brandon S.



This is the best dentist I've ever been to.Everyone has been so nice .from the front desk ,the hygienist and the dentist..

Tracie M.



Best place in area. Great staff.

Brian G.



Great service from doctor, assistants and receptionists.

Anonymous



Always a good experience. Mary Darwak is exceptional, always so pleasant. Dr. Shah is a trusted dentist.

Sharon D.



Very pleased – whole family goes there, and have always received excellent care

Donna L.



Friendly, professional, and excellent. My Hygienist Brittany seems to be the best in the business by far. Keep up the great work!!

Freddy H.



My three kids saw Dr. Brian today and they had a wonderful experience. He worked patiently with all of them, especially my two year old. The hygienists and office staff were also very friendly and accommodating.

Rebecca L.



The staff is great!

Tina G.



Mary Darwak is such a pleasant receptionist, always helpful and friendly. Dr. Shah is also pleasant, gentle and an excellent dentist.

Sharon D.



Great place, clean and well maintained. I'll been going here for the last 3 to 4 years. The staff and Dentists are very nice and helpful.

Glenville C.



great staff; asst. Laurel and Kim are wonderful, as is my hygienist Linda

Linda S.



I was pleased with everything. Had oral surgery and didn't feel any pain during the procedure

Susan G.



Dr. Kristen and staff are friendly, prompt and my visit was pain-free. They explain what is going to take place and talk to you as they proceed. I high recommend and do recommend this office to my friends and family.

Kathleen W.



I would like to extend a great big thank you to Mary, Front office staff and Kristen Assistant, for the great care they gave me through my dental emergency. They are always pleasant, happy and smiling.

Lisa L.



Best dentist office in the Hudson Valley! Love the staff there…especially the front office ladies!

Christine P.



Very personable and attentive. Quick work and a quick response when called

Heather M.



Very prompt, friendly, clean and just all around wonderful.

Rachael S.



As usual another painless experience, you guys are the best. Thank you for your professionalism.

Alan M.



I was sent here to get my wisdom teeth taken out. My surgeon was very helpful and professional. He called to see how I was doing a few hours after my surgery. The Dentists Office is an excellent place. It's clean, comfortable and all of the staff, including the people at the front desk were lovely.

Poppy V.



Friendly knowledgeable professionals.

Nancy T.



Amazing! Same day appointments! Military Vet Friendly! Office and atmosphere clean feel right at home! Play area for the kids! Your teeth are there number #1 concern not the money!! A+A+!! Don't waist your time anyplace Else!

Robert N.



I find the receptions to be pleasant and the doctors among other staff to have good manner with me as a patient of theres. They deal very well professionally and give excellent care with current dental treatments.

Melissa B.



The staff was excellent. Very professional and caring toward their patients. I always feel very comfortable while in their care.

Steven M.



Honestly I never thought I would ever in my 49 years write a dental review let alone a five star one! The entire office staff is stellar, especially Athena and Melissa. I have had nothing but continual positive experiences, understanding and excellent work done on my children and myself. The Pediatric dentist, Dr. Byran is a rare find and truly a gift to the profession. Dr. Oh and Dr. Yoo are equa…

Marlo M.



I am so happy with my crowns. Went in today to have the permanent crowns put in. They fit in my mouth perfectly. They didn't even need to be adjusted. The bite is just like my original teeth. I can't express my joy of finally having my teeth in place. It was a long road and 3 root canals to get to today. These teeth feel just like they were meant to be there. Thank you so much.

Mary B.



Shanna the Hygienist was great!!! She walked me through the process and made the cleaning experience painless. When the dentist came in he addressed his concerns which weren't major but discussed options with me that he would recommend. Which I thought it was great. Overall I feel like this is such a great practice and would highly recommend this practice!

Stephanie M.



Going to the Dentist was never top on my list. Since I started going here I have developed a whole new appreciation. Dr Yoo has such a gentle way, even a big fraidycat like me doesn't mind my trips to the dentist. Dr. Oh also has a wonderful way with his patients. Thank you all for making my experience easier than I ever expected.

Sharon W.



We had a fantastic experience at the Dentists' Office! Dr. Hinkle was so caring with our daughter and made sure she was comfortable. She is already looking forward to her next appointment and so are we because we know she is in good hands. The office staff and nurse Kristen are wonderful as well! We are going to be booking appointments for the entire family. I am so happy we found an excelle…

Anonymous



As always very professional and as usual a painless experience. The staff makes you feel comfortable from the time you walk through the door till the time you leave.

Alan M.



Dr. O the oral surgeon I went to see for a consult to get my wisdom teeth out was great. He was really friendly and really took the time to explain the procedure and what to expect.

Anonymous



Front staff was friendly, there was no waiting and my hygienist was informative, thorough, gentle and extremely professional!

Judy D.



Thank you Dr. Shah your a real genious Thanks for helping me with my throbbing tooth ace .Even if you were busy with other patients . I saw you take on two patients at the same time but yet you knew if you needed help your team of other dentist an hygentist were there you right by your side when ever you needed them because she wants you to have the very best care but you don't get out of he…

Robert O.



Had some work done there recently, and the staff went above and beyond! Highly recommended if you need a friendly and comfortable environment. Dr. Hinkle, Kristen, and Shana are the best!

Kyle S.



Office is run very efficient from receptionist ,assistant & Doctors. Very friendly & as usual a pain free experience. I always recommend this office when talking to others.

Alan M.



From the moment we walked thru the front door, the experience was 5 star worthy. The front desk was so friendly & knowledgeable. Dr Hinkle was over the top with my 4 yr old. He put all her fears away. He made her want to brush her teeth. The whole office was exceptional. I'd highly recommend.

Melissa D.



I was greeted nicely when I entered and was seen very quickly. Everything was explained to me, and the overall experience was excellent.

Matthew J.



I was seen promptly, the staff friendly, knowledgeable and efficient and the doctor was outstanding!

Kathleen W.



Highly recommend this place. Had all my teeth extracted in one sitting. Staff was friendly and helpful. Oral surgeon called my house that same evening to check on me and answer any questions. Whole procedure was much less painful than I imagined.

Edwin S.



I receive many compliments on what they have done for me. Great work. Always treated as important as my first visit was and always a relaxed comforting setting for my work. Nobody likes or looks forward to going to any dentist but they made such a difference in my discomfort and look, I'm looking forward to future checkups (never thought I would say that). Very accommodating and pesonalized…

Terence S.



They are the best. I get more compliments for what they have done for me. Always accommodating and interested in patient care, comfort and results.

Terence S.