Posted under:
Root Canal
Posted on: December 28, 2020
Invisalign: Frequently Asked Questions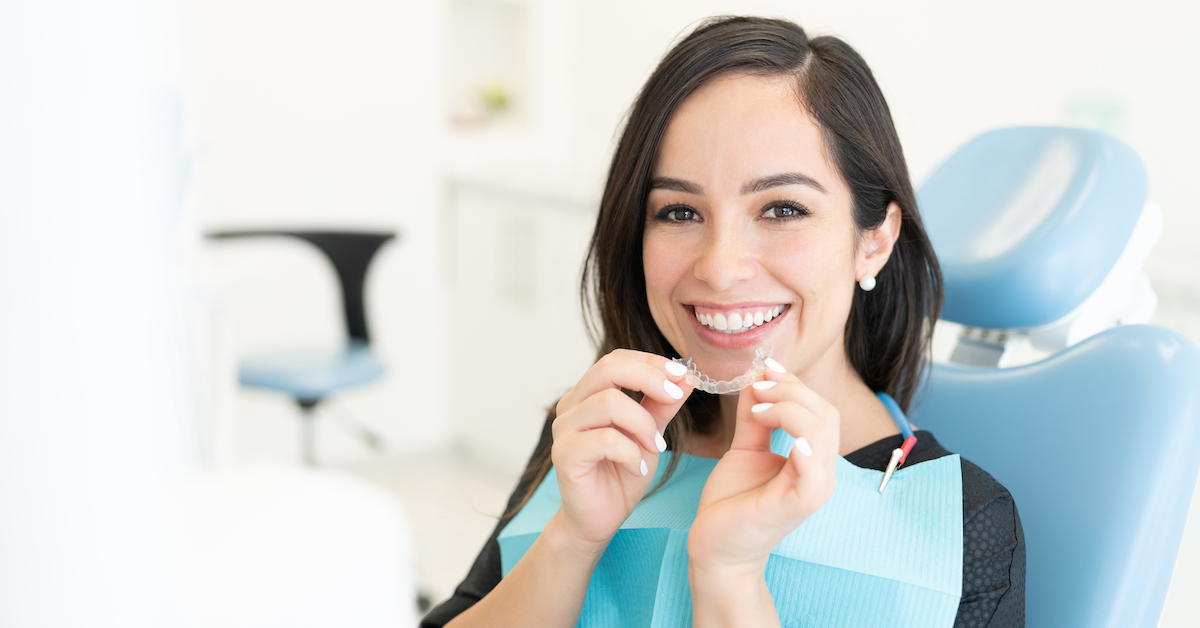 A great smile is the greatest accessory you can have in your wardrobe. No matter the occasion, a beautiful smile can add to your outfit. If you're dissatisfied with your smile because you have misaligned or crowded teeth, then the Invisalign system of aligner trays may be the answer for you. One of the greatest benefits of Invisalign is that the trays are virtually invisible, so no one needs to know that you're wearing the trays while you're improving your smile.
What Is the Invisalign System?
The Invisalign system of aligner trays was the brainchild of a Stanford University student who was in his dentist's office for a tooth whitening session. He and some Stanford alumni devised a system of straightening teeth using the same type of clear trays. Allegedly, they wore the trays during their sales presentation to potential investors but removed them after the presentation, much to the investors' astonishment. Their product got immediate funding, and Invisalign was born.
The aligner trays are made of SmartTrack, a modern polymer that's free of gluten, latex, BPA, and BPS. It's also been FDA-approved for use in the trays, so they're safe to wear. The aligner trays are very thin and very flexible, so they securely hug your teeth, and they're virtually invisible. They don't slip, they won't fall out, and they don't hinder your speech, so you can be confident while you're wearing them.
Who Is a Good Candidate for Invisalign?
Most adults and older teens are good candidates for Invisalign unless they have severe malocclusion or other orthodontic issues that require more traditional or invasive treatments. As long as all of your permanent teeth have fully erupted and you're in good health overall with no drastic orthodontic needs, then you should be a good candidate for the Invisalign aligner trays.
If you're considering the Invisalign system, then the answers to the following questions may provide insight for you.
Do you have all of your permanent teeth? One reason that Invisalign isn't usually used for children and young teens is that their teeth are still forming and growing, so it's difficult to fabricate aligner trays that will fit and be comfortable.
Are you committed to wearing your trays? The trays won't work if you don't wear them. In order to be effective, the trays must be worn from 20 to 22 hours each day, so it's important that you're willing and able to commit to the required wear schedule.
Is it important that your trays are invisible? If you're indifferent to the lack of aesthetic appeal of the wires-and-brackets that comprise traditional metal braces, then Invisalign might not be the best option for you. However, if the invisibility aspect appeals to you and you like the option of removing the trays for special occasions, then the Invisalign aligner trays may be a good option for you.
Your dentist will advise you if you're a good candidate for Invisalign or if another type of appliance will work better for you.
What Is the Procedure for Getting Invisalign?
If you and your dentist determine that the Invisalign system is a good option for you, then you can expect the following procedure when you come to our office. Although details may vary slightly, particularly if you need additional dental procedures, the Invisalign process usually is as follows:
We'll make a mold of your gums and teeth and use that to fabricate your series of aligner trays. Since your trays are custom-fit to the contours of your teeth and gums, they should be very comfortable. Since they fit very snugly, you won't have to worry that they'll slip or slide or fall out.
Approximately every one to two weeks, you'll receive new aligner trays that will be shaped a little differently than the previous trays. You may feel a little discomfort for a day after you insert the new trays, but this is normal. It's due to the new trays applying pressure on your teeth but should dissipate after a day or two. It's another step in the process of gently realigning your teeth.
You'll need to return to our office for a progress checkup every four to six weeks, so that we can make adjustments as necessary.
You should notice an improvement in your tooth alignment by the date of your first progress checkup.
Will Invisalign Dramatically Affect My Life?
The Invisalign system of aligner trays isn't an invasive treatment, so it shouldn't inconvenience your life. However, there may be a few habits that will need adjusting for the duration of the procedure, such as:
You shouldn't use any type of tobacco product for the duration of your procedure, whether you chew, dip, smoke, or vape. All tobacco products will stain your trays the same way they stain your teeth. This might be an ideal time to quit altogether since you're already on the path to permanently quitting if you've stopped temporarily.
Don't chew gum when wearing your trays. If you must chew a stick of gum, be sure to remove your trays first.
Avoid eating or drinking anything other than water when wearing your trays. Both the food you eat and the chewing process can damage your trays, so avoid eating or drinking when you have your trays in. Hot drinks can warp the plastic in your trays, and if food particles become lodged underneath them, cavities and decay can begin to eat away at tooth enamel. This will interrupt and extend your treatment time.
Be dedicated to flossing and brushing after you eat or drink and before you replace your trays. Using an antibacterial mouthwash before reinserting your trays will help eliminate any bacterial residue.
If you have any questions, be sure to ask us.
What Happens at the Conclusion of the Treatment?
When you have completed your Invisalign treatment, your dentist will probably recommend that you wear a retainer during the night. Usually, a retainer is worn for a year or less, but it helps ensure that your teeth remain in their new and proper alignment, so be sure to wear it as directed.
Can My Local Dentist Provide Me With Invisalign?
Genuine Invisalign aligner trays are only available through dentists and orthodontists who have completed the specialized training and certification in the Invisalign process. If your dentist isn't certified by Invisalign, then they can offer similar products, but they won't be genuine Invisalign aligner trays.
If you're interested in getting Invisalign, then call Dentists' Office of The Hudson Valley at (845) 512-1230 and schedule an evaluation. We can help you achieve the smile you've always wanted, so call us today. We look forward to working with you.